While it was first in the news in 2016 that a driver's license can be renewed online, as of April 2018, it is still not possible.
This is another instance of the policies and systems of framework leading to a lower quality of life, wasting your time. When speaking with the CESCO employee, they stated that many of the policies and procedures make no sense and are unlikely to change anytime soon. He said the governor or director of DTOP would have to make they change. Another crazy thing he mentioned, is that while the posted closing time is 5 PM, they actually shut the doors at 330 PM, and won't let anyone else inside. There is no mention of this on the website, that the door will close 1 1/2 hours before the officially posted closing time. Of course, this may vary from one location to another. He said, generally speaking regarding many of the contradictory and confusing policies of DTOP, "Welcome to Puerto Rico." By this, he meant, yet again, Puerto Rico is not functioning properly, and it's a fact of life of having to deal with a confusing, senseless system that needlessly wastes your time. So, "Puerto Rico does it better?" Does what better?
If you have found a way to renew online, or would like to discuss, add your comments below. We sent a staff member this month to CESCO to ask about renewing a driver's license online. They said that while it was in the news that a driver's license could be renewed online, the CESCO employee said in reality it CANNOT be done online, and must be done in person. We also went to the DTOP website to try it to verify, and it shows that as of this date, it CANNOT be renewed online.
https://www.elnuevodia.com/noticias/locales/nota/unarealidadlarenovaciondelicenciasporinternet-2274306
A reality the renewal of Internet licenses
It is hoped that this will help to lessen the lines at Cesco
Wednesday, December 21, 2016 – 1:44 PM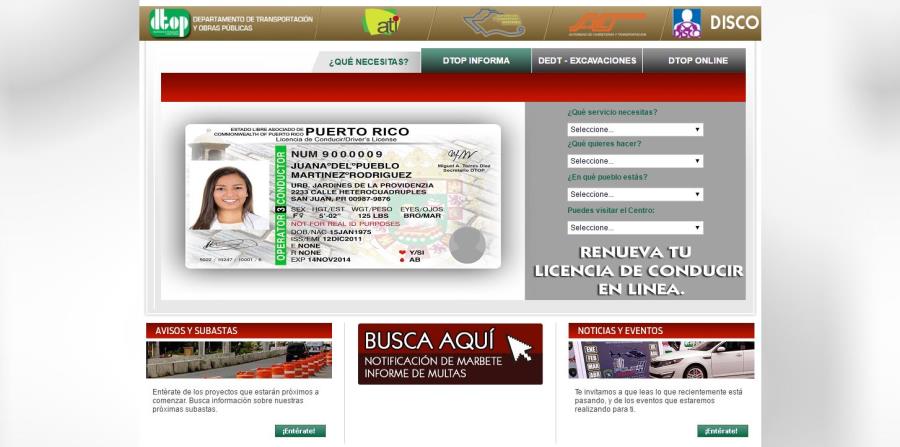 The endless rows and bad times in the Driver Services Centers (Cesco) can be avoided when renewing your driver's license, which can be done online beginning in January 2017, through the page dtop.gov.pr.
The Secretary of Transportation and Public Works (DTOP), Miguel A. Torres Díaz, reported that "finally" the license can be renewed virtually.
"One of the many initiatives is to streamline services to the public, allowing technological services to benefit citizens and we can complete this process in a simple, agile and that allows you to do the process from the comfort of your home or your work" , said the owner.
He explained that although they had been working for some time to offer the service over the Internet, what represented a "challenge" was the part of the medical certificate, but they reached an agreement with the Department of Health so that electronically registered physicians with the Licensing and Discipline Board Medical can submit the information electronically, as when you send virtual recipes directly to pharmacies.
"That was the only procedure that required physical management to renew the license. I already have your Social Security, your birth certificate, and, if you have not moved, I have your address. Usually the photo can be the same. The same governor Alejandro García Padilla asked why they asked for his birth certificate, when it is the same day that I was born and that does not change. It is not necessary to ask for it two or three times. It is something that has to change, "reiterated the Secretary.
Torres Díaz explained that, at the moment, drivers with category 3 licenses will be able to do this process, which represents 90% of the drivers on the Island. The others must continue to do so personally because they require other requirements. The identification of REAL ID can not be renewed online even though it requires an updated photo of the person, although it does not rule out that it could be included in the future. You can not have fines either and you must do the process between 15 to 60 days before the license expires.
The cost is the same as if it were a Cesco, which is $ 11, which can be paid with a Visa or Mastercard credit card through the virtual collection of the Department of the Treasury, which can also be online. Once the process is completed, the license arrives by mail between seven and 15 days later.
"We are satisfied with this management, which takes several months of trial and effort. To serve as a Christmas gift for Puerto Ricans, "said Torres Diaz, who stressed that it may be done every two renewal cycles, but then must do it in person to update the photo.
He predicted that this service will help between 700 and 800 people do not have to go to the Cescos and these centers can be dedicated to deal with more complex procedures. He clarified that the services in the centers will continue, but that the staff of employees will now be able to dedicate themselves to attend meritorious cases. He reiterated that the personnel in the centers right now is "finite."
"I think it will represent a saving, hours of effort to serve people, which is a big challenge. One of the limitations is the fiscal resource, the recruitment of person. We need tools like this to free people daily to allow them to work on more difficult issues. We hope that people opt for this as the number one option, "said Torres Diaz, who met with the incoming DTOP secretary, Carlos Contreras Aponte , to let him know about the initiative.
Every day, 12,140 people visit the Cescos around the Island, which represents more than 3 million visits per year.
The director of the Office of Management and Budget (OGP), Luis Cruz, indicated that this service did not represent an additional cost.
///
Una realidad la renovación de licencias por Internet
Se espera que esto ayude a bajar las filas en los Cesco
miércoles, 21 de diciembre de 2016 – 1:44 PM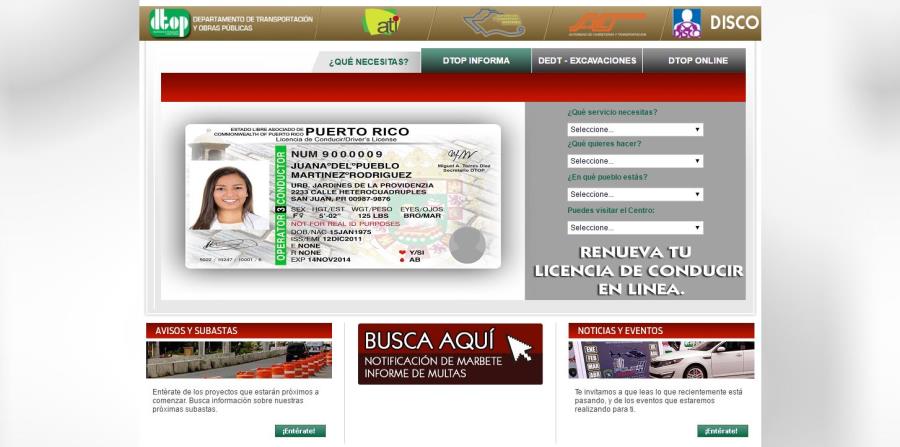 Las interminables filas y malos ratos en los Centros de Servicios al Conductor (Cesco) podrán evitarse a la hora de renovar su licencia de conducir, que a partir de enero se podrá hacer en línea a través de la página dtop.gov.pr.
El secretario de Transportación y Obras Públicas (DTOP), Miguel A. Torres Díaz, informó que "finalmente" se podrá renovar la licencia virtualmente.
"Una de las muchas iniciativas es agilizar los servicios a la ciudadanía, permitiendo que los servicios tecnológicos beneficien a la ciudadanía y podamos completar este trámite de manera sencilla, ágil y que permita hacer el trámite desde la comodidad de su casa o de su trabajo", expresó el titular.
Explicó que aunque llevaban tiempo trabajando para lograr ofrecer el servicio por Internet, lo que representó un "reto" era la parte del certificado médico, pero lograron un acuerdo con el Departamento de Salud para que electrónicamente los galenos registrados con la Junta de Licenciamiento y Disciplina Médica puedan someter la información electrónicamente, como cuando envías recetas virtuales directamente a las farmacias.
"Ése era el único trámite que requería una gestión física para renovar la licencia. Ya tengo su Seguro Social, su certificado de nacimiento, y, si no se ha mudado, tengo su dirección. Usualmente la foto puede ser la misma. El mismo gobernador Alejandro García Padilla preguntaba por qué le pedían su certificado de nacimiento, cuando es el mismo día que nací y eso no cambia. No es necesario pedirlo dos o tres veces. Es algo que tiene que cambiar", reiteró el Secretario.
Torres Díaz explicó que, al momento, serán los conductores con licencias categoría 3 quienes podrán hacer este trámite, que representan el 90% de los conductores en la Isla. Los demás deberán seguir haciéndolo personalmente porque requieren otros requisitos. La identificación de REAL ID no podrá renovarse en línea aún porque requiere una foto actualizada de la persona, aunque no descarta que podría incluirse en un futuro. Tampoco puede tener multas y deberá hacer el proceso entre 15 a 60 días antes de que vence la licencia.
El costo es el mismo que si fuese a un Cesco, que son $11, que pueden pagarse con tarjeta de crédito Visa o Mastercard a través de la colecturía virtual del Departamento de Hacienda, que puede ser también en línea. Una vez se completa el proceso, le llega la licencia por correo entre siete y 15 días después.
"Estamos satisfechos con esta gestión, que lleva varios meses de prueba y esfuerzo. Que sirva como regalo de Navidad para los puertorriqueños", expresó Torres Díaz, quien destacó que podrá hacerse cada dos ciclos de renovación, pero luego deberá hacerlo en persona para actualizar la foto.
Auguró que este servicio ayudará a que entre 700 y 800 personas no tengan que ir a los Cescos y estos centros puedan dedicarse a atender gestiones más complejas. Aclaró que los servicios en los centros continuarán, pero que la plantilla de empleados podrán ahora dedicarse a atender casos meritorios. Reiteró que el personal en los centros ahora mismo es "finito".
"Creo que va a representar un ahorro, horas de esfuerzo para atender a las personas, que es un reto grande. Una de las limitaciones es el recurso fiscal, el reclutamiento de persona. Necesitamos herramientas como ésta para liberar personal a diario que les permita trabajar asuntos más difíciles. Esperamos que la gente opten por esto como opción número uno", indicó Torres Díaz, quien se reunió con el secretario del DTOP entrante, Carlos Contreras Aponte, para dejarle saber de la iniciativa.
Diariamente, 12,140 personas visitan los Cescos alrededor de la Isla, lo que representa más de 3 millones de visitas al año.
El director de la Oficina de Gerencia y Presupuesto (OGP), Luis Cruz, indicó que este servicio no representó un costo adicional.
///
See also
https://puertoriconewcomer.wordpress.com/2018/04/07/puerto-rico-drivers-license-how-to-renew-it-online-as-of-this-date-you-cannot