How long should free hotels last for Hurricane Maria evacuees from 9-20-17?  Should there be a time limit?   Assuming finding one of the cheaper hotel rates at $65/night x 30 days = $1950/month.  $65/night x 365 days = $23,725/year.   Most hotels around Orlando, similar to those mentioned in the article cost far more than $65/night.  These are the pre-taxes prices.
https://www.elnuevodia.com/english/english/nota/weshouldnotbegoingthroughthis-2444747
"We should not be going through this"
Refusal to extend the federal Temporary Shelter Assistance program has left dozens of Puerto Rican families in Central Florida in a limbo
Saturday, September 1, 2018 – 12:15 PM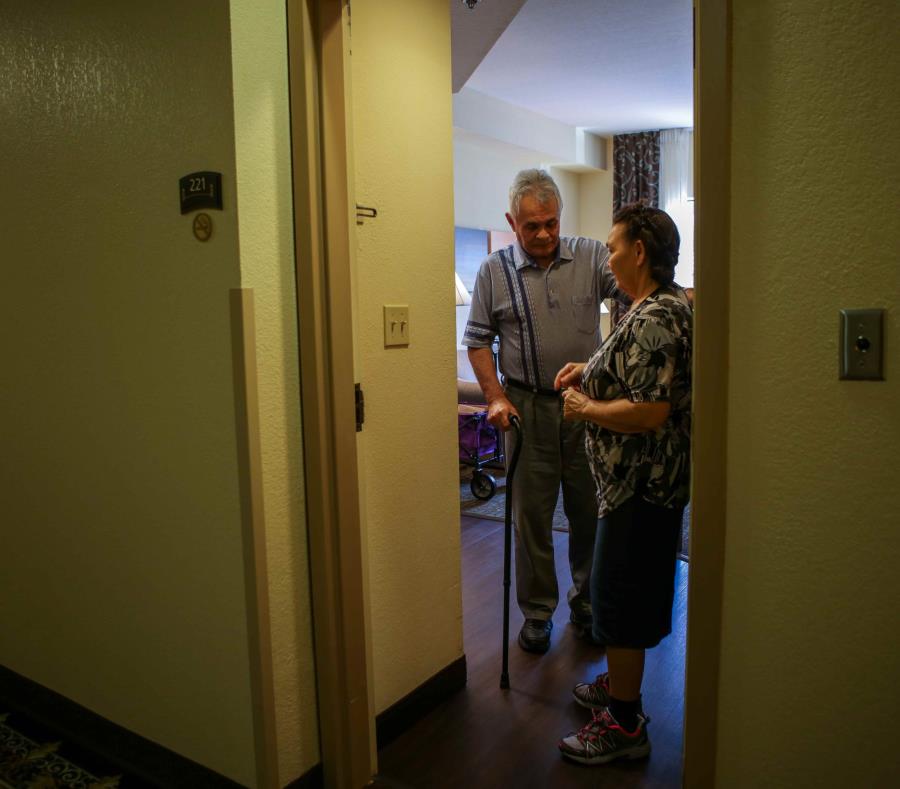 Orlando – People call them "the ones from Fema ", since they have been wandering from hotel to hotel, with their clothes in plastic bags or in trolleys, like outcasts, for a year.
Some have managed to make the transition, and moved to permanent housing. But others – who to date still live in hostels – are in a limbo. They cannot return to Puerto Rico because the hurricane devastated their homes and the option of staying in Florida, either because they are under medical treatment or because they have children at school, has become a nightmare as housing in this state is more expensive than in Puerto Rico.
"This is so sad, because after working so many years, we should not be going through this," said Carmen Muñoz, 67, who has been married to Benjamin for 47 years.
Long before, they used to live in the United States, but when Benjamin was diagnosed with colon cancer, and he thought he did not have much time left, he wanted to return to Puerto Rico. The good news was that Benjamin got better after several surgeries. The bad news was that Maria destroyed the house they rented on the island.
The winds ripped the windows of the house, took off the roof tiles and severely damaged the structure. The couple, without children, had their little house on a hill in Humacao, "near Palmas del Mar," he said.
That is why they decided to come to Orlando and since then they have lived in four hotels: at the Quality Inn in Clermont, at the Days Inn in Sanford, at the Woodspring in Orlando and now in the Staybridge. But yesterday, several hours after talking to El Nuevo Día, the hotel management warned them that they had to leave because they never received the FEMA notice on the Temporary Shelter Assistance program (TSA) extension, which validity was extended from August 31 to September 14.
After several efforts they found out that it was an error, but until then, they went through deep distress and anxiety.
On Friday, District Judge Timothy S. Hillman rejected a request for this program to remain in effect indefinitely, but he extended its validity two more weeks: until September 14.
As of yesterday, 1,030 families (2,809 people) remained in temporary shelters in the United States, according to FEMA data. It is estimated that about 130 are in the central Florida area.
"I was devastated when I heard the judge's decision, because the rumor was that they would extend it until December and that would give us a little more time to look for an apartment," said Benjamín.
They have been looking for a place to live all this time. "We have found some apartments, but they ask us $ 1,300 per month and we cannot afford that. We find others for $ 700 per month, but there are two-year waiting lists and we cannot return to Puerto Rico, because we have no one there, no relatives to house us. Besides, the doctors who are treating me are," said the man, who was head of security guards at a company in Massachusetts and then manager at the Rain Forest Cafe in Disney Springs. But, he had to retire when he was diagnosed with cancer.
"We don´t know what we will do on September 14," said the 70-year-old man. "We are American citizens and we have worked here in the United States for years and we pay taxes. I think the governor of Puerto Rico has abandoned us and Florida governor, Rick Scott, too. FEMA has spent its millions in Hawaii, where nothing happened, but not a penny on us. Why, instead of spending so much on paying for hotels, they do not buy trailers, which are cheaper?".
"We are not criminals, but wherever we go they treat us like that. They tell us 'the ones from FEMA', that we break everything; and they even ask us to return to Puerto Rico," he lamented.
Lisandra Martinez arrived in October 2017, and just as she was beginning to feel she was stabilizing and that her work was showing signs of progress, the 32-year-old woman was diagnosed with womb cancer. She felt devastated and that joined the anxiety and uncertainty of not having permanent housing. "I want a good education for my seven-year-old son and I have it here, and that's why I do not want to go back to the island," she said.
She had to stop working while she undergoes treatment. Her partner, Jonathan Ramos, 29, left the island and moved in with her to help her. A week ago, he found a job at a construction company where he is paid $ 11 an hour.
She had a voucher from the federal Housing Section 8 Plan to get a home for $ 980 a month. But, in Florida, that figure is hardly enough to pay the rent of a small study where children or couples are not allowed. "As I could not find one, they took my voucher, because it expired," said the young woman.
"When that day arrives, well, I do not know, I'll see if we look for a friend that will receive us at home while we find an apartment, because we have been looking for it," she said.
Even since before the hurricane, Florida faced a deficit of affordable housing and, although there have been initiatives from counties like Osceola to develop low-cost housing projects, these houses will not be ready in the short term. So acknowledged Puerto Rican Republican representative Bob Cortes, who may be the candidate for lieutenant governor of Ron DeSantis, who seeks the governorship of Florida.
"I'm optimistic that another judge will come and extend this. That's what happened after Katrina in Louisiana, and FEMA extended the program for 23 months," Cortes said. "The other option is to look for housing outside the Orlando area or in another state where prices are lower," he said.
However, the idea of dismembering the group that these Puerto Ricans have created would be adverse, suggested sociologist and professor at the University of Central Florida Fernando Rivera. "It would break the environment of support they have created," said the expert, who explained that the uncertainty of not knowing where to live causes high levels of anxiety and even depression.
"This has become a cyclical issue where local, federal, the city and Puerto Rican governments have been passing the ball from one place to another and, after a year, people were left in the middle without a solution," he said. "This is still a humanitarian crisis and I am concerned about the mental health of these families," he added.
We requested an interview to La Fortaleza and to the administration of Florida governor, Rick Scott, without answers.
On this issue, Puerto Rican descent congressman Darren Soto said that he will make arrangements with the government of Puerto Rico to identify homes in which displaced people can stay. He also noted that he will continue his campaign in Congress to approve a disaster housing assistance program that provides long-term housing.
For Episcopal priest Jose Rodriguez, of the Jesus de Nazaret Church, this decision is like a return ticket to Puerto Rico for American citizens, with the same rights as the victims in Texas, Florida and Louisiana to be forgotten, he said.
The priest said that, there was an idea in several debates to open emergency shelters, such as those that are activated when a hurricane comes, as a temporary solution while the situation is being resolved. The problem with this idea is that most of the shelters operate in schools and the school semester has already began.
"Governments have used non-profit organizations to do their work, and, now, these entities have run out of economic resources to continue," said the priest, who has intensively worked with Puerto Rican communities.
"This is discrimination. What makes our people different from other citizens? What makes us less deserving of help?," he asked.