https://www.offthegridnews.com/current-events/us-food-stamps-in-puerto-rico-costing-you-2-billion-dollars
U.S. Food Stamps In Puerto Rico Costing You 2 Billion Dollars
More than one-third of the population in Puerto Rico is now on food stamps. American taxpayers are now handing out more than $2 billion each year to residents of Puerto Rico – most of it in cash. Since the food stamps are forked over in cash form, it is impossible to know if the hard-earned taxpayer funds are actually even being used to provide food for the poor.
The US Department of Agriculture (USDA) recently admitted that the federal agency cannot verify how the Puerto Rico food stamps funds are being spent, but don't appear to have a plan to correct the possible taxpayer abuse. Most of the American money is distributed through the Nutrition Assistance Program, also known as NAP. Another portion of the funding stems from the 2009 stimulus package.
The idea of federally mandated charity must end, and end soon, or the greatest nation in the world will be broke and we will be faced with a raging civil unrest scenario. In Puerto Rico, approximately 1.37 million residents were handed food stamps during 2012. The average unemployment rate in the Caribbean nation is 14.2 percent and the median annual household income is about $19,000.
Statistics for the food-based entitlement program in the United States boast a doom and gloom outlook as well. In 2012, approximately 48 million residents were handed food stamps every month. The number of Americans on food stamps represents about 15.2 percent of the overall population. Americans have a long history of setting records, but the new high of one-in-five households dependent upon the government (i.e. taxpayers) to put food on their dinner plates is cringe-worthy and not something worthy of a ribbon or medal.
In Puerto Rico, the food stamps program does not operate like the Supplemental Nutrition Assistance Program (SNAP) in the United States. Puerto Rican officials are permitted to distribute the taxpayer dollars in the form of block grants. Under the reported guidelines of the program, a total of 25 percent of the individual's "benefit" can be turned over in cash form. The average monthly entitlement amount received by residents is roughly $240.  NOTE:  $240 monthly in food stamps is $8 per day.  $240/30=$8

A USDA report issued in 2010 noted that it is "widely acknowledged" that Puerto Rican food stamps recipients spend their cash allotment on items other than food. For three years the government has been aware of the taxpayer abuse, but has not opted to end the program until the fraud is corrected.
An excerpt from the USDA food stamps report reads:
"Like SNAP, NAP distributes benefits on an EBT debit card. However, unlike SNAP, up to 25 percent of the monthly benefit may be redeemed for cash. When cash is withdrawn from an ATM, there is no way to verify that funds are spent on food; however, the 25 percent provided in cash is designated for food purchases. One of the main reasons that provisions of 25 percent of the benefits in cash was built into the program was to allow participants without access to certified retailers a way to purchase food."
Extending the food stamps program to Puerto Rico began in 1974. The federal government made the illogical decision to replace guidelines which at least attempted to include a verification process with a block grant system in 1982. Current food stamp eligibility requirements for Puerto Rico residents applying for the taxpayer funded program range from having a maximum income of $2,796 for a one person household to having a maximum income of $12,708 for a seven person home.
The Puerto Rico Status Resolution Act was introduced in Congress last month. The bill was proposed by the island nation's only non-voting congressman. The Puerto Rico statehood bill has 30 sponsors from both sides of the political aisle. Puerto Rican citizens have benefited from the country's relationship with America for about a century, but the Puerto Rico Status Resolution Act is the first time legislation to make the nation the 51st state has been introduced in the US Congress.
If Puerto Rican voters opt for statehood, the bill requires President Barack Obama to draft legislation within 180 days to create the 51st state. Puerto Rican Resident Commissioner Pedro Pierluisi had this to say about the Puerto Rico Status Resolution Act:
"The government of the United States is a champion of democracy and self-determination, and it has to adhere to these principles with respect to its own citizens. Puerto Rico has been called the shiny star of the Caribbean, and it's time that our state shines, together with the other states, on the flag of the United States of America."
A "two question status plebiscite" conducted in November showed that 61 percent of Puerto Ricans wanted statehood and 33 percent wanted to become a free nation with an "association" with the United States of America. The remaining responders wanted outright independence. In March, the Obama administration added $2.5 million to the budget plan for a vote to be held in Puerto Rico.
Alejandro Garcia Padilla, the governor of Puerto Rico supports the commonwealth status the island currently holds but does want a final resolution to the status debate. Padilla also stated that he is most concerned with combating the struggling economy in Puerto Rico and battling the high crime rate. Just what America needs—another state with a struggling economy with lots of crime. A presidential task force on Puerto Rico determined in 2011 that the island was "hindered" economically and on a social development platform due to the lack of a resolution on the status question.
The commonwealth status Puerto Ricans currently enjoy means that they are non-voting US citizens who do not pay income taxes but are reportedly required to contribute to Social Security. As American citizens, they are eligible for all welfare entitlement programs.
The massive number of residents partaking of the taxpayer funded social programs has spurred the phrase "welfare island" in some political circles. On average, American taxpayers send $17 billion in welfare funds in Puerto Rico. In addition to food stamps, a multitude of island residents receive housing assistance, medical assistance, and college financial aid. Some estimates put the number of Puerto Rico residents receiving housing assistance as high as 70 percent.
How do you feel about taxpayer funded welfare in Puerto Rico?
See also:
https://puertoriconewcomer.wordpress.com/2019/03/10/pan-acronym-for-nutrition-assistance-program-aka-food-stamps-participants-feel-the-effects-of-the-cuts-in-puerto-rico-is-112-per-month-enough-to-survive
///
https://ipfs.io/ipfs/QmXoypizjW3WknFiJnKLwHCnL72vedxjQkDDP1mXWo6uco/wiki/Welfare_in_Puerto_Rico.html
Welfare in Puerto Rico
Public welfare in Puerto Rico is a system of nutrition assistance, public health, education, and subsidized public housing, among others, provided to the impoverished population of the island. It is mainly funded by United States Federal assistance and by local government funds.
Federal aid
Puerto Rico received more than $6.5 billion annually in federal aid from the United States.[1] A substantial portion of this amount is earmarked for public welfare, including funding educational programs (such as Head Start), subsidized housing programs (such as (Section 8 and public housing projects), and a food stamp system called the Nutrition Assistance for Puerto Rico program.
Federal programs
The following programs are provided by the U.S. Federal government in Puerto Rico:
Inapplicable federal programs
As important as the federal aid programs that apply to needy Puerto Ricans are the federal programs that do not apply or only apply partially to otherwise-qualified residents of Puerto Rico.
The United States Congress, for budgetary reasons, has capped Puerto Rico's participation in the federal Medicaid program. The current annual spending cap of about $230 million is about 15% of the $1.6 billion that Puerto Rico would receive if equal treatment applied.
While the Medicaid cap could be justified by the fact that Medicaid is financed out of the U.S. Treasury and the federal income tax is generally inapplicable to taxpayers residing in Puerto Rico, the less-than-equal treatment in Medicare is especially unfair since Puerto Rico workers are subject to the full federal payroll tax that finances Medicare and Social Security. Health services providers are shortchanged to the tune of approximately $400 million annually due to reimbursement limits Congress has placed in Puerto Rico under Medicare.
Since the Nixon administration, perhaps the most effective anti-poverty federal program is not a program at all but the reimbursible earned income tax credit (EITC) available to the working poor. The credit currently amounts to a maximum of $4,536 annually to low-income workers. The EITC effectively rewards workers for seeking and keeping their less-than-$36,000 per year jobs and filing a federal tax return, a strong incentive for the work ethic. The EITC does not apply to residents of Puerto Rico, probably depriving close to half of the islands' workforce of a powerful inducement to seek and retain a job.
The 2006 Brookings Institution/Center for the New Economy report on Puerto Rico's economy suggested that federal-minimum-wage earning workers in Puerto Rico only receive net monthly income of $50 for their efforts compared to the unemployed who seek full welfare benefits. The federal EITC would multiply the net effect of working three- to six-fold if applied to Puerto Rico.
Another major federal assistance program generally inapplicable to otherwise-qualified residents of Puerto Rico is the Supplemental Security Income program, which provides payments approaching $600 per month to recipients, most of which are aged, disabled or blind. While many aliens legally residing in the United States, as well as non-US citizens residing in the Northern Marianas Islands qualify, American citizens residing in Puerto Rico do not.
The last major federal program not applicable in Puerto Rico is the Food Stamp program. Replaced in 1982 by the tailor-made federal Nutrition Assistance for Puerto Rico, eligible Puerto Ricans lose $500 million annually in federal benefits.
In sum, unequal treatment in Medicaid, Medicare, EITC, SSI and Food Stamps is conservatively estimated at costing Puerto Ricans approximately $3.4 billion annually, or almost $900 per capita.
See also
Puerto Rico $7.25[30] Employers covered by the Federal Fair Labor Standards Act (FLSA) are subject only to the federal minimum wage and all applicable regulations. Employers not covered by the FLSA will be subject to a minimum wage that is at least 70 percent of the federal minimum wage or the applicable mandatory decree rate, whichever is higher. The Secretary of Labor and Human Resources may authorize a rate based on a lower percentage for any employer who can show that implementation of the 70 percent rate would substantially curtail employment in that business. Puerto Rico also has minimum wage rates that vary according to the industry. These rates range from a minimum of $5.08 to $7.25 per hour.
///
https://www.heritage.org/taxes/report/congress-should-not-give-puerto-rico-federal-tax-subsidies
Congress Should Not Give Puerto Rico Federal Tax Subsidies
Research Fellow in Economics, Budget and Entitlements
Rachel researches and analyzes taxes, Social Security, disability insurance, and pensions to promote economic growth.
Policymakers are considering extending federal tax credits such as the Earned Income Tax Credit (EITC) and Child Tax Credit (CTC)—but not the rest of the federal tax code—to Puerto Rico as a way to help the island emerge from its economic and fiscal crisis. This would amount to an expensive cash bailout and would not address the core problems that caused Puerto Rico's crisis.
The EITC would primarily boost the incomes of Puerto Rico's middle class without helping those who are unemployed, working in the underground economy, or living on welfare benefits. The CTC would shift income toward families without spurring economic growth. Given the highly problematic and costly improper payment rates of the EITC and CTC among federal taxpayers, extending them to non-federal taxpayers would likely result in even higher rates of fraudulent payments.
Federal Tax Credits for Residents Not Subject to Federal Income Taxes
Because they live in a U.S. territory, Puerto Rican residents are not subject to U.S. federal income taxes. While they and their employers pay Social Security and Medicare payroll taxes, those are filed by employers. Most Puerto Ricans have no interaction with the Internal Revenue Service (IRS). A 2014 study by the Government Accountability Office (GAO) estimated that if Puerto Rico were a state and subject to the federal income tax, its residents would have paid an estimated $2.2 billion to $2.3 billion in federal individual income taxes in 2010 (after netting out refundable tax credits such as the EITC and CTC) and as much as $3.4 billion more in federal corporate income taxes.[1]
As refundable tax credits, the EITC and CTC function as tax credits and welfare benefits. The EITC provided roughly $73 billion in payments to working Americans in 2015.[2] About $10 billion was a refund for federal income taxes paid, while the overwhelming majority—$63 billion—was "refundable" and equivalent to welfare benefits. The CTC provided about $57 billion in payments to families with children in 2015, including about $23 billion in credits against taxes paid and $34 billion in effective welfare benefits.
While some individuals who receive the EITC and CTC do not pay any federal income taxes, they are still subject to federal income taxes, meaning they will pay federal income taxes if their earnings rise. Absent a change in Puerto Rico's status as a U.S. territory, Puerto Ricans will never pay federal income taxes. Moreover, because it is difficult to enact legislation that targets a select group, policymakers would extend the EITC and CTC to all federal territories, increasing the cost and providing windfall benefits.
Federal tax benefits should be reserved for those who are subject to the federal income tax. Temporary access to the EITC and CTC for Puerto Rico and other territories would quickly transform into permanent access to those benefits and a whole host of other federal tax credits.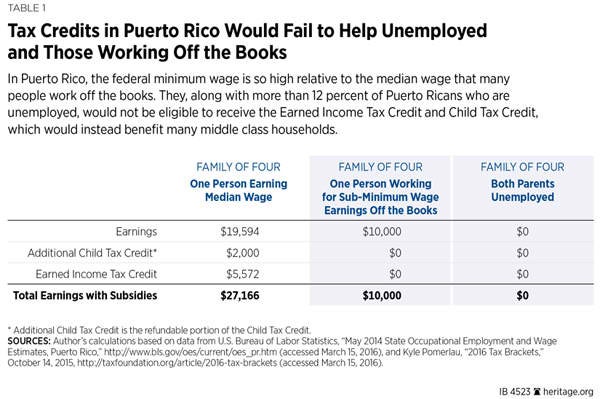 Puerto Rico has the authority to implement its own wage subsidy, which it did, temporarily, from 2007–2013 through a "work credit." Puerto Rico's version of the EITC was smaller, with a maximum work credit of $450. The credit was initially available to families making up to $20,000 per year, and that limit increased over time to $27,500 in 2013. About 45 percent of Puerto Rico's tax filers claimed the credit, costing the Puerto Rican government about $124 million per year.[3] The Puerto Rican government eliminated its work credit as a cost-savings measure in 2014.
Puerto Rico Needs More Jobs, Not Higher Wages
Only about 38 percent of Puerto Rico's working-age population (ages 15–64) has a job in the formal economy,[4] and just over 12 percent of Puerto Ricans are unemployed. That leaves half of Puerto Rico's working-age population not looking for jobs. Some of these individuals are students and homemakers, but most are either on the sidelines collecting federal welfare benefits, or working for lower wages without paying taxes, or both. Since workers do not report underground earnings, they can double up on both wages and welfare benefits.
A 1996 GAO report estimated that about 59 percent of Puerto Rican workers would qualify for the EITC.[5] However, with only about 38 percent of its working-age population employed in jobs in the formal economy, access to the EITC would be significantly limited and the benefits misappropriated. The 38 percent of Puerto Ricans who have jobs in the formal economy are not the ones most in need of help. The 62 percent of Puerto Rico's working-age population who are unemployed, working in the underground economy, or living on welfare benefits are the ones who need greater opportunities for work. Anyone with a formal job in Puerto Rico makes at least $7.25 per hour (the federal minimum wage), which is equal to 77 percent of the island's median wage.[6]
A Puerto Rican couple with two children and one earner making the median wage of $9.42 per hour[7] (just under $20,000 per year) would qualify for $5,572[8] in EITC payments and $2,000 in CTC payments, effectively increasing their income by $7,572 or nearly 40 percent.[9] These tax subsidies are calibrated to mainland wages and price levels. At the island's wage levels, the subsidy would miss those it was intended to help—those at the margins of the workforce—and heavily subsidize those who are already in the middle of the distribution.
A similar family with $10,000 in off-the-books earnings or one in which both parents are unemployed would not receive anything from the CTC or EITC. Moreover, as long as their jobs remain barred from benefit by the minimum wage, they cannot choose to move into the formal sector. The EITC subsidizes earnings for families with incomes as high as $53,495, which is more than the income of approximately 85 percent of Puerto Rican households.[10]
Rather than higher paying jobs for a select few who are already better off than most Puerto Ricans, the federal government should exempt Puerto Rico from the federal minimum wage. The Puerto Rican government should do its part as well by eliminating costly and onerous labor-market regulations such as mandatory Christmas bonuses, excessive paid leave, and the inability to fire workers without significant costs. These regulations make it difficult for Puerto Rico to attract businesses that will employ workers and contribute to their economic output and tax revenues. Without new businesses and jobs, Puerto Rico cannot emerge from its economic and financial crisis.
Federal Minimum Wage Would Thwart Purpose of EITC
The purpose of the EITC is to encourage unemployed individuals, those working less than full-time, and those receiving welfare benefits to work or work more. The wage subsidy that the EITC provides raises the effective wages individuals can earn by as much as 45 percent. As a result, the EITC can boost the incomes of workers with three or more children by as much as $6,269.[11] As individuals earn more, however, and the EITC is phased out, it acts as an additional marginal tax of up to 21 percent.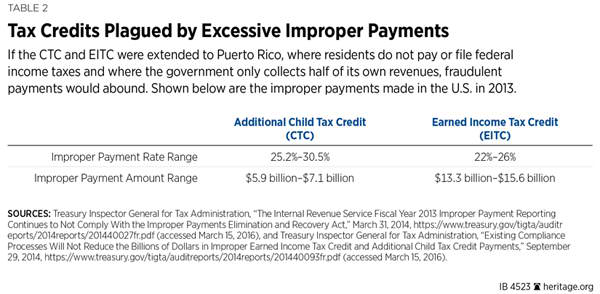 Higher wages through the EITC can increase work effort and make individuals less dependent on other welfare benefits. In Puerto Rico, however, the excessively high federal minimum wage would prohibit those most in need from receiving the EITC. Some have argued that, in Puerto Rico, the EITC could help bring workers out from the underground economy and into formal jobs where they both pay Puerto Rican taxes and receive worker protections. While it is hard to measure the underground economy, estimates suggest Puerto Rico's informal economy accounts for 23 percent to 28 percent of its gross national product (GNP).[12]
However, because the minimum wage is such an impediment to formal employment in Puerto Rico, the EITC would have limited impact. Even if informal workers want to transition to the formal economy and earn higher wages from the EITC, most employers in the underground economy cannot afford to bring their workers' wages up to the federal minimum necessary to be on the books.
High Rates of Fraudulent Tax Credits Likely
The EITC and CTC are among the most widely abused federal tax provisions. Two 2014 studies from the Treasury Inspector General concluded that the U.S. spent between $13.3 billion and $15.6 billion[13] in improper EITC payments and between $5.9 billion and $7.1 billion[14] in improper Additional Child Tax Credit (ACTC) payments in 2013, with many tax filers falsely claiming additional children and reporting more income than they actually earned.[15] Moreover, the report concluded that the IRS continues not to comply with the Improper Payments Elimination and Recovery Act (IPERA) of 2010, which defines "significant" improper payment as 2.5 percent or more of total program outlays.[16] With a 25 percent to 30 percent improper payment rate for the ACTC and a 22 percent to 26 percent improper payment rate for the EITC, these credits are inefficiently enforced and widely abused.[17]
If these credits have 25 percent or greater improper payment rates when the IRS has access to federal taxpayers' tax data and can audit them, just imagine how high the improper payment rate would be in Puerto Rico where residents neither pay nor file federal tax returns and the U.S. government has no ability to audit them.
Presumably, the IRS would have to rely on Puerto Rico's Treasury Department, or "Hacienda," to implement and enforce the EITC. However, Puerto Rico's tax administration is abysmal as the island collects only a little over half of its applicable taxes.[18] If the government enforces little more than half the taxes that go into its own coffers, it is even less likely to properly administer and enforce tax credits that cost the Puerto Rican government nothing and that could even boost the island's tax revenues.
Conclusion
Puerto Rico is facing a serious economic and fiscal crisis. Allowing non-taxpayers access to federal tax credits, such as the EITC and CTC, would be a misguided cash bailout. The EITC would flow primarily to relatively privileged Puerto Ricans with jobs in the formal economy, while at the same time failing to increase incomes or opportunity for the island's many unemployed and underemployed; the CTC would do little more than provide windfall benefits to families with children. Furthermore, extending tax credits that already have excessively high improper payment rates to territories that do not pay or file federal income taxes—to be administered by a tax administration that only collects about half its own taxes—will lead to high rates of fraudulent payments and excessive costs for federal taxpayers.
Eliminating the federal minimum wage, which restricts potential businesses from locating on the island and pushes others into underground operations, would do far more to boost Puerto Rico's economy and growth potential than the federal EITC. With a minimum-wage exemption, Puerto Rico could implement its own wage subsidy targeted to very low earners. This would help bring more workers into the formal economy where they will pay taxes and help boost Puerto Rico's revenues. Congress can also help Puerto Rico grow by providing it with an exemption from the maritime Jones Act, which drives up shipping and production costs, and by granting the island more flexibility in how it administers some federal welfare benefits so that they do not discourage work.
—Rachel Greszler is Senior Policy Analyst in Economics and Entitlements in the Center for Data Analysis, of the Institute for Economic Freedom and Opportunity, at The Heritage Foundation. Anil Niraula, a member of The Heritage Foundation's Young Leader's Program, assisted in the research for this report.