One key reason why so many people in PR are driving with an expired driver's license is the unnecessarily difficult and cumbersome process to comply with the law!  For example, in Puerto Rico, one may not renew a driver's license more than 2 months in advance of the driver's license expiration date.  This should be changed to within 6 months in advance of the expiration date, since many people go back and forth to the states to visit relatives, and PR doesn't allow renewals to be done online.  Another reason for so many people using expired driver's licenses is the horribly inefficient, poorly designed service.  To get or renew a driver's license in the state, it can be done in less than 1 hour in many states, while it can take more than a full day in PR.   Moreover, in the states, it can usually be done in the same location, without having to go to other buildings for the sham medical test/eye exam, another building to buy the sellos/stamps.   Another problem is the government website doesn't even list the addresses, hours, an phone numbers for all the locations.  At one point, they listed the address for the old Carolina PR location that had been closed for several years, and didn't list the new location.  When the director of that location was questioned on this problem, he showed that he didn't care.  He should be fired for running such a poor operation with horrible lines and not having his address location updated for over 3 years!

Updating the marbete, or registration sticker, is even worse, as many of the inspection stations will try to charge you more than the maximum $11, and you still have to go to various location to buy the stamps/sellos.  It's not really an inspection anyway, but an emissions test, as that is the only thing they normally test, by hooking up a sensor to your tailpipe.
If you were charged with a driving offense, then go to court to defend yourself and win, the court doesn't automatically update the record of the win with the DMV/DTOP to remove the violation, as it does in the states.  In PR, even if you win the case, your file will still show that you owe the fine.  You will have to go to court again to pay $7 for the stamp/sello at the archive office to get a copy showing that you won the case, and give that to DTOP/CESCO for them to remove the fine from your record!
All these factors unnecessarily waste citizens' time, making them inefficient, lowering the quality of life.
///
https://www.notiuno.com/noticias/gobierno-y-politica/m-s-de-personas-guian-sin-licencia-en-puerto-rico/article_ffbcf1f8-6ffd-11e9-8772-4b12f87d6f99.html
More than 350,000 Puerto Rican drivers have an expired driver's license, or about 10% of Puerto Rican drivers
NotiUno.com May 6, 2019
Currently in Puerto Rico there are about 352,274 people with expired driver's licenses.
This figure is 10 percent of the total 3,371,319 licenses that appear in the data system of the Director of Driver Services (DISCO).
However, it is estimated that the actual number of licenses is about two million, so 18 percent of the population of drivers in Puerto Rico is without documentation.
"The total number of licenses within the system is 3,371,319, so 352,274 represents approximately 10 percent of the total. That number is stable and includes from young people 16 years old and older, men, women, people who are not in Puerto Rico, there may be people who have not renewed from oblivion, others who cannot pay their fines, there are those who perhaps left the country and people that the system keeps in the database, but who may have died, "Luis Felipe Colón, director of DISCO, told First Time.
///
Más de 350,000 personas guian sin licencia en Puerto Rico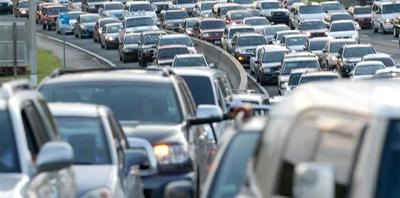 Actualmente en Puerto Rico existen unas 352,274 personas con licencias de conducir vencidas.
Esta cifra es un 10 por ciento del total de 3,371,319 de licencias que aparecen en el sistema de datos de la Directoría de Servicios al Conductor (DISCO).
No obstante, se estima que la cifra real de licencias es de unos dos millones, por lo que un 18 por ciento de la población de conductores en Puerto Rico está sin documentación.
"El total de licencias dentro del sistema es de 3, 371,319 por lo que las 352,274 representa aproximadamente un 10 por ciento del total. Ese número es estable e incluye desde jóvenes de 16 años en adelante, hombres, mujeres, personas que no están en Puerto Rico, pueden haber personas que no han renovado por olvido, otros que no pueden pagar sus multas, hay quienes quizás se fueron del país y personas que el sistema mantiene en la base de datos, pero que puede que hayan fallecido", le dijo a Primera Hora Luis Felipe Colón, director de DISCO.