https://www.theweeklyjournal.com/politics/economic-development-hindered-by-nuisance-epidemic/article_665d9dfc-1078-11ea-8e34-6b515932c931.html
Economic Development Hindered by Nuisance Epidemic
Legal tools and federals funds available to address the issue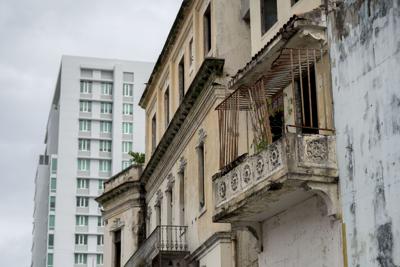 While the local government endorses entrepreneurship and foreign investment to boost Puerto Rico's economy and social well-being, the island's nuisance and abandoned property problem remains a virtually uncharted territory that could potentially lift distressed communities while resulting in profitable investments. Across San Juan and the rest of the island, abandoned properties or public nuisances are a common sight.
The Habitat Reconstruction Center (CRH by its Spanish acronym) released a report on Puerto Rico's nuisance and vacant property problem, which found that there is a 22 percent vacancy rate islandwide and roughly 300,000 abandoned structures, including more than 600 closed schools that have not been revitalized through available state and federal mechanisms.
CRH Co-Director Luis Gallardo noted that the vacancy rate does not include properties that are in ruins or considered nuisances. Calculating the latter, that figure could surpass 30 percent, but the lack of updated government records on these structures hinders the calculation of an exact number.
While commonly used interchangeably, Gallardo said these terms are not exactly synonyms of one another. For instance, a nuisance is a legal classification attributed to a structure that is inhabitable or poses a threat to public safety. A vacant property refers to a structure that remains unoccupied. For example, a vacant property could be a structure used for rent. Meanwhile, a structure is deemed abandoned when it is in a state of ruins or has not been reclaimed by a proprietor.
"A vacant property can be a nuisance, in the same way that an occupied property can be a nuisance," he clarified.
In San Juan, the island's capital, only 90 out of 46,580 vacant properties have been declared nuisances. Despite having tens of thousands of unoccupied structures, San Juan is not listed among the municipalities with the highest vacancy rates. According to Gallardo, the highest is actually Culebra, with 66.5 percent; followed by Vieques, with 46.9 percent; Rincón, with 44.9 percent; Cabo Rojo, with 42 percent; Guánica, with 40.9 percent; and Ceiba, with 38.5 percent.
These numbers, however, were compiled before the onslaught of hurricanes Irma and Maria in 2017, which further accelerated Puerto Rico's population decline through migration. As such, these numbers are estimated to be even higher.
Legal Tools and Development Programs Available
The CRH conducted a survey of municipalities in which the organization identified a "genuine interest in addressing vacancy and abandonment throughout Puerto Rico, including collaborations with communities."
Specifically, 84.2 percent of municipalities have approved a new ordinance to address the issue within the last four years, 80 percent want more affordable housing, 95 percent want to promote economic development and 40 percent want to expand municipal services and spaces.
There are several laws and bills designed to tackle nuisances with aims of stimulating economic development. Last year, the Act to Enable the Community Restorations in Puerto Rico (Act No. 31-2012) was amended to allow municipalities the option of leasing structures or obtaining ownership when these are labeled public nuisances in hearings or procedures. 
Act 31-2012 was also amended to incorporate laws and bills that allow municipalities to inherit nuisances, condemn delinquent nuisances or auction nuisances to collect liens; turn abatement costs into liens, and promote the creation of community land banks.
However, only 30 percent of municipalities are familiar with land banking and only 40 percent have declared a nuisance in the last two years; 32 percent have overspent by purchasing nuisances at market rate, 5 percent have condemned properties with delinquent liens and only 5 percent have auctioned properties to collect liens.
Disaster Relief Funds Could be Key in Tackling Issue
The secretary of the Department of Economic Development and Commerce (DDEC by its Spanish acronym), Manuel Laboy, affirmed to this correspondent that the public entity envisions a healthier business climate on the island thanks to the federal funding provided under the Community Development Block Grant Disaster Relief Program (CDBG-DR), as well as the federal Opportunity Zones program that was incorporated into Puerto Rico's Code of Incentives last summer.
The Puerto Rico Department of Housing categorizes CDBG-DR programs under five categories—planning, housing, economy, infrastructure and multi-sector. Some of these funds are assigned by the millions to strategic projects, title clearance, social interest housing, housing counseling programs, community resilience centers, city revitalization, municipal recovery planning, and more.
Despite the availability of a federal mechanism that could be used to revitalize this nuisance epidemic, the CRH found that only 35 percent of municipal offices relate nuisances to their CDBG-DR recovery funds.
Considering this and the OZ program, which was designed to aid distressed communities by incentivizing investment, Gallardo noted that municipalities could incorporate nuisances and abandoned or vacant properties to the equation to endorse revitalization projects focused on community welfare and prosperity rather than seeking new constructions that could potentially lead to resident displacement or gentrification.
"There is no need to develop new constructions or natural reserves if one-fourth of our city is completely vacant… We have always seen this inventory of abandoned properties as a way to rebuild communities in an organic way and to incorporate community development," he said.
Soon to release a list of eligible businesses
Last August, the DDEC released a list of eligible commercial activities covered under the OZ program, which will eventually be updated to include which activities are eligible for more incentives by region. The current list includes the acquisition of property and/or substantial improvement on residential real estate property that is a Low-Income Housing Project, a residential and/or commercial real estate property for sale or rent and industrial real estate property for sale or rent.
The list also includes substantial improvement of an existing commercial property for sale or rent. Therefore, an updated inventory on vacant properties or the auction of a nuisance could incentivize more economic activity through the OZ program.
Outdated Records a Hinderance in Declaring a Nuisance
Gallardo observed that the process for a municipality to declare a property as a nuisance could take several months in theory, but in practice may take years because of record-keeping problems in the Municipal Revenue Collections Center (CRIM by its Spanish acronym) and the Puerto Rico Property Registry.
"The CRIM's issue is that its records are not updated and the Puerto Rico Property Registry is garbage—the fact that the records are not so precise makes it really difficult to identify where the owners are. The fact that a person can pass away and decades can go by before the CRIM updates its records doesn't help either. Thus, the public registration system is highly deficient," the CRH co-director denounced.
The process begins when the municipality inspects a property and notifies the owner that the structure has been identified as a possible nuisance. The owner would then have 30 days to respond to the letter.
"The problem is that oftentimes, the owner cannot be identified. I'd say that roughly 95 percent of the times the owners never reply," Gallardo stated.
If the owner does not respond to the written communication, the municipality would proceed with a public notice, which would allow the owner a further 30 days to reply. Afterward, the proprietor would have 60 days to fix the property, after which the municipal government can proceed with the available legal tools at its disposal.
If the municipality is inclined to acquire the property to remedy the nuisance, there are several options available.
"The municipality can buy the property at market value if it wants to. Otherwise, the municipality can exonerate it. If the property does not have heirs because the deceased owner does not have a will or children claiming ownership, the municipality can inherit the property. The municipality can also ask the court for a judicial sale and the property doesn't pass through the municipality, but is instead sold at auction," Gallardo explained.
—————–
Editor's note: This story was published on the November 27 print edition of The Weekly Journal.