https://www.theweeklyjournal.com/business/puerto-rico-s-urban-train-seeking-more-passengers/article_70ef8c0a-86dd-11e9-8d0a-ff2696c39086.html
Puerto Rico's Urban Train Seeking More Passengers
Several improvements under evaluation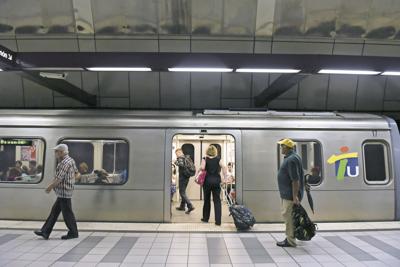 Puerto Rico's public train system, Tren Urbano, has several improvement initiatives under consideration, as the government seeks to attract passengers amid revenue losses.
As described by the U.S. Department of Transportation, the Tren Urbano is "a single-line, 10.7-mile fixed guideway rapid transit system" with 16 stations across the metropolitan municipalities of San Juan, Bayamón, and Guaynabo.
With a $2.25 billion investment, the system's construction began in 1997 and it became operational in December 2004; however, revenue service began in June 2005.
But after almost 15 years in operations, the Tren Urbano has failed to uphold revenue expectations and has seen a decline in riders.
A report released last May, created with data from the P.R. Department of Public Works & Transportation (DTOP by its Spanish acronym), stated that the train system lost 4.8 million passengers. The report goes on to say that in 2010 the Tren Urbano had an average of 10 million users, but that by 2018 that number had shrunk to 5.1 million users, which resulted in a $1.8 million loss.
Josué Menéndez, director of the Integrated Transit Authority (ATI for its Spanish acronym), which oversees the Tren Urbano, stated that the train tariff increase in 2014 led to decreased interest in that transit system. Initially, a one-stop ride cost users $1.50. By 2009, the cost was reduced to 75 cents and by 2014 it had gone back to the original price of $1.50 per ride, except for students and senior citizens who were, and still are, eligible for discounted fares.
In an interview with THE WEEKLY JOURNAL, Menéndez explained that the administration is currently debating whether a change in tariffs would lead to new investors in the train system. The issue is still under review and no decisions have been taken as to whether an increase or decrease in fares would, in fact, generate interest among possible investors.
The Transportation official went on to note that infrastructure damages and debris brought on by hurricanes Irma and Maria in 2017 were the main cause for the Tren Urbano's declining number of passengers. Menéndez recalled that aside from the lack of electricity and essential services, the system remained closed for roughly three months.
When asked if passenger numbers had been declining prior to the hurricanes, Menéndez looked over data from 2015 and 2016 and assured that "we have stayed more or less on average."
"We understand that, as of now, we are seeing an. increase in revenue and we believe that with the improvements that this administration has planned and will be implementing, it will increase further," Menéndez affirmed.
In an effort to attract more passengers, the administration is considering a series of improvements which would be paid for with federal funds.
At the top of the list is updating the train stations' toll machines, which currently do not accept credit cards. The machines currently in place can only accept dollars and coins, some can only handle exact change and others are completely out of service.
This has drawn criticism because Act No. 42-2015 of the Department of Consumer Affairs (DACO by its Spanish acronym), establishes that every business must accept at least two payment methods except for the government itself, which is exempt from this law geared toward improving customer service.
"That ticketing system will be updated, and we will try to address that situation," Menéndez said.
Another government initiative currently under discussion is the creation of a digital platform that would allow users to stay updated on train routes and timing.
"We already have something we are working on. The main idea is to provide riders with real time information so they can schedule their rides more accurately and make better use of their time," the official explained.
David Carrasquillo, president of the Puerto Rican Society of Planners concurred that a strong digital presence, combined with great service, could greatly improve the train's reliability and attract more passengers.
He also suggested that the digital platform should give riders the opportunity to create an account in which they could deposit money or through which they request cards.
The train operates every day of the week from 5:30 a.m. until 11 p.m., though the schedule is extended on special occasions or large-scale events, such as concerts in the José Miguel Agrelot Coliseum, known as the "Choliseo," or during the San Sebastián festivities on January.
Regarding these operating hours, Carrasquillo said that extending them could result in more revenue, "as long as schedules of commercial activity are consistent with it."
Moreover, Carrasquillo explained that a sure way to increase passengers is to reinvigorate areas within 500 meters of Tren Urbano's 16 stations. The planner stressed that costly rent prices and mortgages, along with the deteriorating state of some buildings in areas close to the train, drive away potential riders.
"Right now there are no offers for affordable housing, so it is far less expensive to live in the suburbs and drive their cars," he said.
Carrasquillo also highlighted the need for a more buoyant nightlife, and perhaps more large-scale events, taking place in areas close to the stations.
"We must keep the train current, keep discussing how to improve it; how to make it the best option to reach the businesses along its routes. There are also many abandoned places along its routes that could be turned into new destinations for the train's riders," Carrasquillo affirmed.
He added, "transportation is the soul of every city, especially in disaster recovery processes or when recovering from economic depressions like the one we have had for over 10 years."
—————
Editor's note: This story was published in the June 5, 2019 print edition of The Weekly Journal.