https://www.theweeklyjournal.com/online_features/puerto-rico-aims-to-transform-former-navy-base-into-tourism/article_bf85983e-9d06-11e9-8462-cb887d03b6aa.html
Puerto Rico Aims to Transform Former Navy Base Into Tourism Hotspot
New projects include $25M investment, 800 direct jobs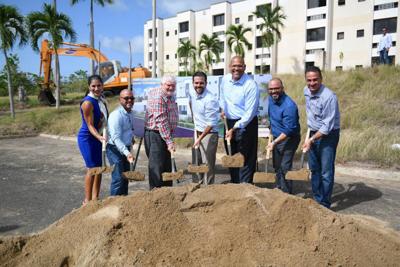 Gov. Ricardo Rosselló announced on July 2 one new project geared toward providing energy stability, and another to attract tourism to the former Roosevelt Roads Naval Station.
The Secretary of the Department of Economic Development and Commerce (DDEC by its Spanish acronym), Manuel A. Laboy, informed at the press conference that these two initiatives have a combined investment of $25 million and will create roughly 800 direct jobs throughout their phases.
IBD Energy was selected to create a micro-grid and provide energy to the Roosevelt Roads area in the municipality of Ceiba, as opposed to the P.R. Electric Power Authority.
"The development of that zone is extremely important for the eastern region's economy. With that in mind and considering the importance of offering optimal energy service, we announce the selection of IBD Energy as operator of the micro-grid that will be in charge of creating a resilient and cost-effective electric grid, which is vital for these lands to continue in full development to promote investment and job creations," the governor said.
Rosselló added, "this project is in accordance with our public policy, which seeks to reduce energy costs for consumers and improve the environment by promoting clean energy, so as to improve the community's well-being."
The first phase of the microgrid project consists of 5,000 kilowatts (kVa) of thermal generation within approximately nine months of the contract's execution. The second phase will incorporate photovoltaic panels for clean energy generation.
Laboy explained that the selection process for this project began in May 2018, during which the government received eight proposals. Of these, two companies were selected and subsequently interviewed, but after a "lengthy evaluation process," IBD Energy was chosen to sign an agreement in early 2019 and are underway to sign the official contract.
The governor also indicated that one of the development components in Roosevelt Roads is the construction of projects that promote tourism.
The first phase to remodel 25 units of the Ocean Club complex, which will serve as a short-term rental place, has been completed. The governor also announced that, after 18 months of negotiations, an agreement was reached for the development of an "important" hotel project.
In addition, Rosselló announced the Ensenada Senior Concierge Community project to provide housing assistance to the region's elderly population, and whose first remodeling phase will take place in the former Navy Lodge with an $11 million investment. In its initial phase, the project will create 55 direct jobs and 150 indirect jobs.
The director of the Authority for the Redevelopment of Roosevelt Roads, Ian Carlo Serna, stated, "we continue working on new projects that we will announce shortly to diversify the entertainment and commercial premises for our visitors and residents of the east. We already see that our actions are yielding positive results and soon we will give more details of projects that involve millions of investments and that will generate great opportunities available in these areas."
Moreover, the governor affirmed that "the time to rebuild is now and together we will make a great change for Puerto Rico."