Peter Schiff points out than any of the 50 states would be happy to give up statehood since it would mean they could also escape Federal taxation.  He shows why statehood would be terrible for Puerto Rico.   Commenters explain further.
https://www.elnuevodia.com/negocios/empresas/nota/inversionistaresidenteenpuertoricodefiendeestatusterritorial-2549033
Investor resident in Puerto Rico defends territorial status, Peter Schiff argued that the island "would be much worse" if it were a US state
Tuesday, February 25, 2020 – 4:44 PM
By Sharon Minelli Pérez
Peter Schiff urged the purchase of electric vehicles to avoid the taxes imposed on regular cars. (Supplied)
Resident investor Peter Schiff affirmed today that "Puerto Rico would be much worse" if it were a state in the United States and that, in his opinion, "there is no state of the union that would not change its position with Puerto Rico if it could."
Peter Schiff wrote, "This is the article that led the Puerto Rican Gubernatorial candidate I spoke about on yesterday's podcast to accuse me of opposing statehood for purely selfish rather than genuine economic reasons. He and other Puerto Rican politicians use statehood as an excuse to cover up their own failures. Not being a state gives Puerto Rico a comparative advantage over every state in the Union. A corrupt and incompetent local government is all that stands between Puerto Rico and great prosperity."
"Many people want to blame Puerto Rico's problems on the fact that it is not a state. Well, if you think Puerto Rico is in trouble now, wait to see how much worse it would be if we were a state. We would literally be a state dependent on social assistance, "said Schiff, chief executive of Euro Pacific Capital Inc., during his speech as a panelist at the Puerto Rico ICON investor summit, which is being held today at the La Concha hotel in Condado.
"The greatest advantage that Puerto Rico has to present is its status, its territorial status, not being a state. If all you can do is vote for the president, who cares about that?" He continued. In addition, Schiff minimized the fact that Puerto Rico lacks representation in the federal Congress, understanding that the dynamics of the 50 states is to pay federal taxes and then, through their congressmen and senators, press to recover part of what they contribute to the federal government.
Regarding his life as a resident of Puerto Rico, protected by the former Law 22, which is now part of the Incentive Code (law 60), he shared that social life is active and that outdoor activities -such as playing golf- are possible all year.
Regarding the prices of homes in the most sought-after areas for Americans who relocate to Puerto Rico, such as Dorado Beach, Palmas del Mar, Isla Verde or Condado, he stated that "it doesn't matter if you pay more, because you get it back by paying less taxes".
And, while acknowledging that basic electricity and water services tend to cost more than in other jurisdictions, he indicated that these are unavoidable expenses that are offset by other benefits such as the fact that "property taxes are a bargain." He also urged the purchase of electric vehicles to avoid the taxes imposed on regular cars.
Schiff, who identifies as libertarian and republican, was part of the Global Trends – Running a Global Enterprise from Puerto Rico panel, which included the participation of other resident investors such as Bill Mulholland, of ARC Relocation; attorney Rick Patel; and Robb Rill, founder of the Act20 / 22 Society group.
Puerto Rico ICON is an event produced by the Puerto Rican company Colectivo 360 and attracted some 200 attendees from inside and outside the Island.///
From the comments:
Josh Gonzalez: 
Casi la mitad de la población puertorriqueña recibe un beneficio social. De la mitad que justamente trabaja, un tercero de ellos trabajan en el sector público.

Las indicaciones sociales más importantes – bastardía, divorcio, homicidio y otros crímenes – son más altos en PR que en los EEUU y Singapur.

La gente puertorriqueña tiene un gobierno corrupto porque ella es una gente corrupta moralmente e intelectualmente.

Mi papi es lareño y mi mami es ponceña. Espiritualmente yo amo a mi gente, pero soy honesto. Como un grupo, somos una gente réproba.
TRANSLATED TO:
Josh Gonzalez:  

Almost half of the Puerto Rican population receives a social benefit. Of the half that just works, a third of them work in the public sector.

The most important social cues – bastard, divorce, murder and other crimes – are higher in PR than in the US and Singapore.

Puerto Rican people have a corrupt government because they are morally and intellectually corrupt people.

My daddy is from Laredo and my mom is from Ponce. Spiritually I love my people, but I am honest. As a group, we are a reprobate people.
Chris Wilcher: 
It's time to let Puerto Rico become not a state but an independent country. They can do all the same things a US State can do as a sovereign nation.
Adam Campbell: 
This is true, unfortunately many Puerto Rican's can't see this.
Christopher Molina:  
Completely agree with you Peter.

I live in PR. Puerto Rico has the potential to be the Singapore of the Caribbean, but gross incompetence and leftist policies keep it in disarray.
Raul Perez:  
Completely agree. Statehood would be the last nail in the coffin of the Island. We cannot pay any more taxes.

The local baboons that run the Government here are simply selfish criminals hell bent on selling nonsense so they can continue to rob the federal Government and the local population.
Timothy Lamb:  
Cut them loose, there is no advantage to them being in the union.
Lawrence Arthur Larson:  
Peter Schiff, you are being attacked because you're white. Oh wait, Puerto Rico is 75.8% white. Disregard.
Christopher Molina:  
Erich John I understand what you mean. Especially when it comes to lowering the governments debt and making government smaller, it's true. But, that is where the similarities stop.

The PNP party is actually the party that led PR to have a quasi-universal health insurance that made 100s of doctors leave the island. They straddled the governent with huge amounts of debt by issuing bonds that they knew the governement couldn't pay

, although I'll admit that the PPD party had a large hand in that too. The only conservative economic idea I have seen from the PNP was school choice vouchers, which didn't last long because the government was too broke to continue to pay.
Christopher Molina:  
Jose Nieves I half agree.

The PNP party (which is the conservative leaning party in PR) is not a real conservative party, they just pander to the right but create left leaning policies (especially economic policies) just like the PPD. The PNP party is not a real conservative party.
El retrasar de desarrollo de la gente latinoamericana no require una conspiración por los gringos. La gente latina se lo hace a si misma.  TRANSLATED TO:  The delay of development of the Latin American people does not require a conspiracy by the gringos. Latino people do it to themselves.
///
Inversionista residente en Puerto Rico defiende estatus territorial
Peter Schiff alegó que la isla "estaría mucho peor" si fuese un estado de Estados Unidos
martes, 25 de febrero de 2020 – 4:44 PM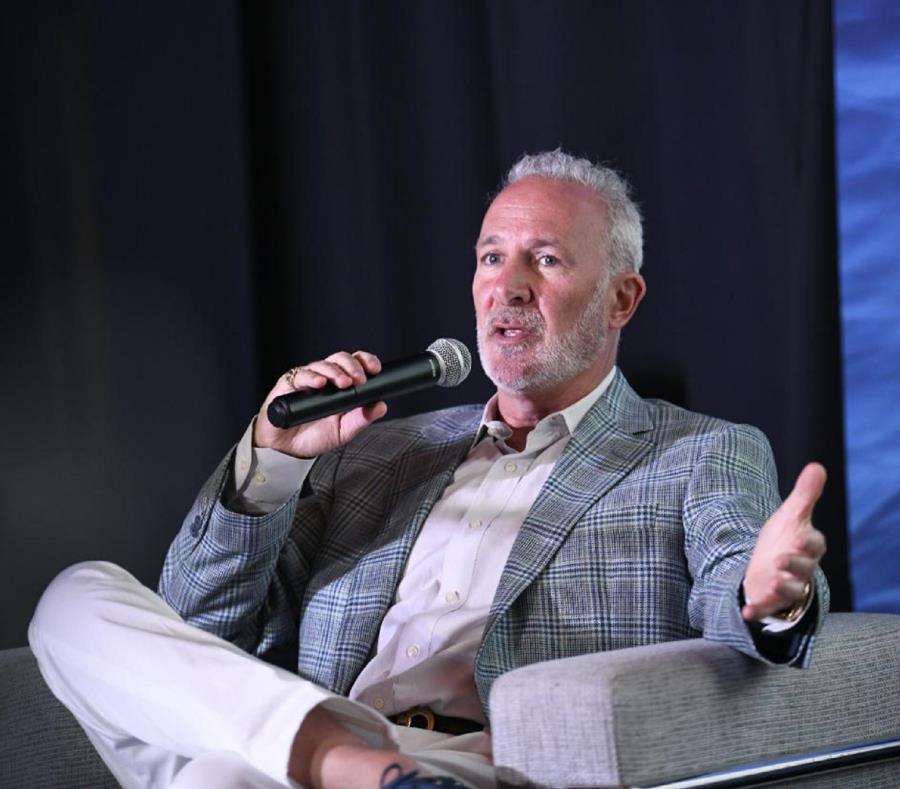 El inversionista residente Peter Schiff afirmó hoy que "Puerto Rico estaría mucho peor" si fuera estado de Estados Unidos y que, a su juicio, "no hay un estado de la unión que no cambiaría de posición con Puerto Rico de poder hacerlo".
"Mucha gente quiere echar la culpa de los problemas de Puerto Rico al hecho de que no es un estado. Bueno, si creen que Puerto Rico tiene problemas ahora, esperen a ver cuán peor sería si fuéramos estado. Seríamos literalmente un estado dependiente de la asistencia social", expresó Schiff, principal ejecutivo de Euro Pacific Capital Inc., durante su intervención como panelista en la cumbre de inversionistas Puerto Rico ICON, que se celebra hoy en el hotel La Concha en Condado.
"La mayor ventaja que tiene Puerto Rico para presentar es su estatus, su estatus territorial, no ser un estado. Si lo único que puedes hacer es votar por el presidente, ¿a quién le importa eso?", continuó. Además, Schiff minimizó el hecho de que Puerto Rico carezca de representación en el Congreso federal, por entender que la dinámica de los 50 estados es pagar impuestos federales para luego, a través de sus congresistas y senadores, presionar para recuperar parte de lo que aportan al gobierno federal.
En cuanto a su vida como residente de Puerto Rico, amparado en la antigua Ley 22 que ahora es parte del Código de Incentivos (ley 60), compartió que la vida social es activa y que las actividades al aire libre -como jugar golf- son posibles todo el año.
Sobre los precios de las viviendas en las zonas más cotizadas para los estadounidenses que se relocalizan en Puerto Rico, como Dorado Beach, Palmas del Mar, Isla Verde o Condado, planteó que "no importa si uno paga de más, porque lo recupera al pagar menos impuestos".
Y, aunque reconoció que los servicios básicos de luz y agua suelen costar más que en otras jurisdicciones, indicó que se trata de gastos inevitables que se compensan con otros beneficios como el hecho de que "los impuestos sobre la propiedad son una ganga". También urgió a adquirir vehículos eléctricos para eludir los arbitrios que se imponen a carros regulares.
Schiff, quien se identifica como libertario y republicano, fue parte del panel Global Trends – Running a Global Enterprise from Puerto Rico, que contó con la participación de otros inversionistas residentes como Bill Mulholland, de ARC Relocation; el abogado Rick Patel; y Robb Rill, fundador del grupo Act20/22 Society.
Puerto Rico ICON es un evento producido por la empresa puertorriqueña Colectivo 360 y atrajo a unos 200 asistentes de dentro y fuera de la Isla.